Why do doctors recommend a slow rate of weight loss?
Plan to Start steadily and Safely is the Key
Loss belly fat
A weight loss of 1 to 2 pounds a week is the typical recommendation. Although that may seem like a slow pace for weight loss, it's more likely to help you maintain your weight loss for the long term.
if you lose a lot of weight very quickly, it may not be fat that you're losing. It might be water weight or even lean tissue, since it's hard to burn that many fat calories in a short period.
You can lose weight quickly with Green World Weight loss/Slimming care products like this because it combine
many healthy and safe strategies at once — no gimmicks or extreme dieting. In some situations, however, faster weight loss can be safe if it's done the right way.
The concern with fast weight loss is that it usually takes extraordinary efforts in diet and exercise — efforts that could be unhealthy and that you probably can't maintain as permanent lifestyle changes.
The recommended weight loss of 1 or 2 pounds a week, which is not only safe but also realistic and sustainable for the long term.
Start small. Be consistent. Don't lose hope – Rome was not built in a day!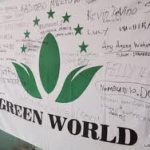 Green World Slimming Package
Like our page and share it Green World Nigeria
See the full detail here: http://goo.gl/oVPuX .
Call 08038000974, 08181270737 to order in Nigeria