Discover Ways To Prevent And Eliminate Bad Breath and Mouth Odour
While certain foods cause
temporary bad breath, persistent bad breath is almost always caused by
bacteria, which live in our mouths. Did you know that over 170 different types
of bacteria call your mouth home?
Bacteria feed on bits of
food left on teeth after meals. Ungrateful guests, these bacteria create
volatile sulfur compounds (VSCs) as a result of their feasting These volatile
sulfur compounds give breath its foul odor.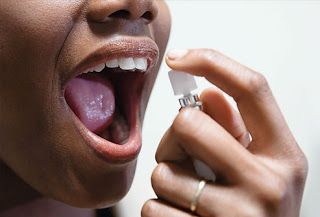 Google Image
HOW TO GET RID
OF BAD BREATH
Use Green World Bad Breath and Mouth
Odour Care.
Green world products below provide effective and long time
treating and cure for bad breath and odour.
1. Intestine cleansing
tea – This is very essential in treating bad breath and odour emanating
from the mouth through internal dextoxification and cleansing using this tea.
2. Aloe Vera Plus or Ganoderma
Capsule: It fights and clear off the respiratory infection bacteria causing
the mouth to stink and inturn repear the damage done.
3. Codyceps Plus
Capsule: Provide recovery for the entire repiratory system, tongue and
fight any form of infection.
Clean your mouth thoroughly and
regularly.
Two major sources of mouth odor are bacteria and decaying
food particles. There are hundreds of nooks and crannies in the landscape of
your mouth where these offenders can get lodged. Brushing is not enough.
When you brush your teeth, also brush your tongue. This is also a good way to
prevent/cure bad breath.
Sneak a spoon into the bathroom.
Check to make sure you're alone. Look into the mirror, stick
out your tongue and check for a pasty white goo on it. Turn the spoon upside
down and use it to scrape your tongue, using a back to front motion. Try
to relax or you will gag. Rinse your mouth and the spoon and sneak it back to
the table. Make sure you rinse the gunk off! This most likely indicates a
thrush cure infection.
Medication Check-up to discover
possible underlying Effect.
Sometimes bad breath is caused by a medical condition, such
as tonsillitis and acid reflux. See your doctor if you are concerned, or if it
persists.
FOR
MORE INFORMATION, ORDER AND CONTACT.IN NIGERIA ON GREEN WORLD NIGERIA.
Call
08181270737, 08038000974 Abuja, Lagos, PortHarcourt, Kaduna, Warri, Abia
etc – Nationwide delivery available to major cities in Nigeria