Green World Vibration Slimming Belt.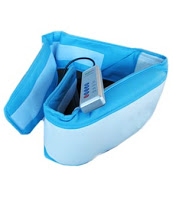 Slimming belt : Weight Loss With Ease
Green World Vibration Slimming Belt
Slimming belt is simple vibrating belts that are worn around the waist
region. If you are either obese or suffering with a protruding tummy, then you
will definitely love slimming belts. This article presents information on
slimming belts and how to use them. Designers of these slimming belts claim
that the movements of the belts play role in stimulating the muscles of the
waist region and thereby resulting in tightening of the stomach muscles. They
even say that these belts help to lose weight. They say that by wearing these
belts, it is possible to reduce the stomach volume and thereby reduce the
amount of food intake. This will ultimately cut the weight
There are
various types of slimming belts. Some slimming belts offer you the option to
control the speed of vibration. Certain types of slimming belts are to be used
while exercising. This type of belt increases the extent of perspiration while
practicing the workouts and thereby helps in losing the excess water content of
the body. Another type of slimming belts are those with a major function of
supporting the back. However, they even serve the purpose of slimming.Even
novice can use these slimming belts with great ease. Just wear the belt in the
desired portion of the body, connect it to the power supply and switch on the
button. You can wear the slimming belt in areas such as around the thighs,
hips, waist and the like. Now, depending on your comfort adjust the level of
speed of vibration. Slimming belts can be used for a time period of about fifteen
to thirty minutes.
You can
obtain perfect results with Green world slimming belts only by practicing
exercises while wearing the belt. This will cut down the water weight of the
body and so, you will start to look slim and experience weight loss.
Benefits of Using Green World Slimming Belt
1. The
Vibration slimming belt may help you lose weight effortlessly2. If you suffer from occasional aches and pains in your back, Green world
slimming belt can help you find temporary relief.
3. There, you will exercise and keep your core tightened, which can help you
see a difference in the size and shape of your waist.
4.
Whether you're sitting at your desk or lifting weights while wearing a slimming
belt is good for you.
 5.
Opportunity to apply the belt to various part of the body where fat are
concentrated like arm, heaps and belly.
RELATED POST
FOR MORE INFORMATION, ORDER AND CONTACT.IN NIGERIA
ON GREEN WORLD NIGERIA.
+2348181270737,
+2348038000974
Abuja, Lagos,
PortHarcourt, Kaduna, Warri,Ilorin, Onisha  etc – Nationwide delivery
available to major cities in Nigeria