Green World Nigeria: Detox Care Package
GREEN WORLD DETOX CARE PACKAGE.
Detoxification is all about cleaning and nourishing your body from the inside out. By removing and eliminating toxins, then feeding your body with healthy nutrients, detoxifying can help protect you from diseases and renew your ability to maintain optimum health.
WHERE DO TOXINS COME FROM?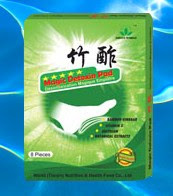 Green World Magic pad
Some toxins are taken in from the environment. They are called external toxins or exo-toxins, from what we eat, what we drink, what we breathe in, what we put on our skin, what we use to wash our hair etc., and represent just a small part of what our body has to deal with
However, many toxins are made within the body from otherwise harmless molecules, every breath and every action can generate toxins. When the body digest food, it creates toxins. When it heals and repairs itself, it creates toxins. When we experience negative emotions, such as stress and anger, the body also creates toxins. The list goes on. These internally created toxins, or endo-toxins, have to be disarmed in just the same way
as exo-toxins do.
HOW GREEN WORLD DETOX CARE PACKAGE DETOXIFY YOUR BODY.
Green World Intestine Cleansing Tea – It shortens the colonic transit time and improves bowel movements therefore, eliminate toxins from the intestinal system. It also increases blood circulation volume filtered by kidneys, thus enhances both intestinal detoxification and kidney detoxification.
Green World Livergen Capsule – It improves hepatic blood flow and the microcirculation in the liver, as well as promotes the regeneration of liver cells. It enhances liver detoxification.
Green World
Magic Detoxin Pad – When the detoxifying foot pads are attached to reflexology points or even points of the body where there is an accumulation of toxins,, the extracts draw them down toward the foot patches and out of the pores and pressure points on the feet. It gives 'a push' to lymphatic fluid to circulate therefore, improves lymph system detoxification.
Green world livergen capsule
Other Detoxifying products also include Chitosan Capsule and Blueberry products. The above products are available in Nigeria and order can also be placed outside the country.
 
Do you have a question? Send us your questions through the contact form to our customer representatives and relationship managers waiting to attend to you. Thanks 
FOR MORE INFORMATION, ORDER AND CONTACT.IN NIGERIA ON GREEN WORLD NIGERIA.
+2348181270737, +2348038000974
Abuja, Lagos, PH, Kaduna etc – Nationwide delivery available to major cities in Nigeria.