Balsam Pear Tea: Take control of your Sugar level with this amazing tea
Balsam Pear tea can get rid of fever, eliminate toxins, nourish blood, liver, spleen and kidney, relieve fatigue and refresh the eyes and Control Sugar levels And Diabetes Complications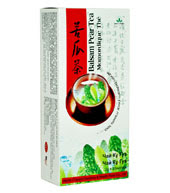 Characteristics and Benefits:
Repair B cells of the pancreas which is responsible for producing insulin
Polypeptide P – a plant insulin, reduces blood sugar and lipid levels safely.
Prohibits the absorption of glucose in the small intestine, and reduces glucose in the bloodstream;
Alleviates complications of diabetes such as thirst and dry mouth.
Suitable for:
People with diabetes
2. People with hyperglycemia
3. People with high sugar level
4. People suffering constant cold, fever and body aches.
Ingredient: Balsam Pear Powder, Green Tea Powder.
Contact me about your order and the information needed. Nationwide Delivery is available. Call: 08038000974, 08181270737