Cellphone radiation may cause male infertility – Expert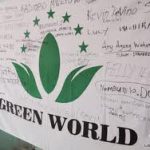 Cellphone radiation may cause male infertility – Expert
Cellphone radiation : Amid growing concern over the radiation and heat emitted by cellphones, some users are turning to anti-radiation chips. Doctors say they could help, but some might not be all they claim to be. "A number of studies have revealed that radiation emitted from cell phones and cell phone towers can adversely affect the normal biological processes. But it isn't clear whether these changes are hazardous," says Dr Sharma.
Cellphone Anti-Radiation Can Help You
Anti-radiation stickers for mobile phones Composed from the finest materials in Nano-Technology, the Anti-Radiation device is a "must" for all mobile phone users. This device can be used on computer and television screen and mocrowaves as they too emit electro-magnetic frequenceies.(EMFs).
Directions of use
Simply peel Anti-Randi device and paste on the back of the mobile phone.
Fore televistion and computer screens and mocrowaves, paste on the side of the screen.
Read more on what expert say on cellphone radiation
Cellphone anti-radiation available on Green herbs
The electromagnetic radiation pollution directly influences environment and human health. Do you need an useful radiation sticker for cell phone to fight radiation which emitted from electronic products? Choosing a good radiation stickers for cell phones is not the question in our shop. We are providing the latest model and the best design anti radiation phone for you.