Need a health boost? Reach for a soothing cup of Green World herbal tea series to relieve nausea, to slim, to keep high sugar away or to achieve a detoxifying body and other common ailments. These teas are for you.
1. BALSALM PEAR TEA – Regulate and lower blood sugar level, Control diabetes effectively and enhance a better healthy for you.
Learn more here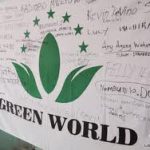 Green World tea
2. KUDING TEA -It has the reputation of preventing high blood pressure,fatty liver and lipid decrement. It has the reputation of preventing deterioration of the heart and the brain and maintaining proper body weight.
Learn more here
3. PRO-SLIM TEA – 100% herbal i.e. from nature, without chemical and
safe for use, Can spend up the catabolism of fat in the body; Suppress the assumption of fat in the intestines.
4. PINE POLLEN TEA –  Drinking this refreshing tea will make you feel comfortable and relaxed. It can neutrilise the effect of alcoholic drinks and Relives fatigue and increase the body's anti-oxidation ability retard the process of aging.
Learn more here
5. INTESTINE CLEANSING TEA –  It possess the capacity to detoxify safely; Preserve youthful look and refreshing skin; Eliminate unpleasant breath and bad mouth odour and Promotes normal bowel movement.
Learn more here
6. LIPID CARE TEA– Green World Lipid Care Tea through diluting and dissolving the lipid substance in blood, helps to purify the blood, increase blood flow and speed, regulate blood circulation and blood pressure, significantly reduce the lipid substance and lower blood viscosity, improve and reduce the risk of coronary disease, fatty liver complications.
Learn more here
"Anytime you're ingesting something, you're giving your body the building blocks it needs to manufacture tissues and hormones," says Dixon. "If you drink tea every day, you can make all sorts of significant changes to your mood, your skin, your sense of well-being and energy."
 
Green World Tea series
TO ORDER YOUR GREEN WORLD PRODUCTS CONTACT
GREEN WORLD DISTRIBUTOR IN NIGERIA
08038000974, 08181270737
Delivery avaialble to all states in Nigeria. pick up available in Lagos, Abuja, Ph etc