Green World Herbal Teas may help prevent diabetes symptoms.
It appears that
drinking tea may also help prevent diabetes
and its complications. One study, conducted by the University of Scranton conducted studies on diabetic mice to determine the effects of tea on blood sugar levels.
They fed them green and black tea for a period of three months before beginning to evaluate them.The rats were fed the equivalent of less than 5 cups per day to humans. The study found that both green and black
tea 
decreased blood glucose levels over those of the mice who were not fed
tea
. These dropped glucose levels had the power to also reduce the complications of diabetes affecting the mice.
Mice that were fed tea were far less likely to have begun to form cataracts (a common complication of diabetes).
This is promising news for those at jeopardy of developing Type II diabetes.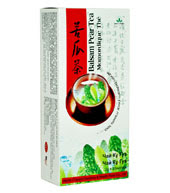 Green World – Kuding Plus Tea and Balsam Pear Tea Best for Diabetics Care and Prevention
To protect yourself from diabetes:
1. It's critical to maintain a healthy weight.
2. Eat natural unprocessed foods that are rich in fibre and nutrients.
3. Avoid sugar and white flour, because both of these foods tend to leave us
with an excess of insulin.
4. Exercise every day. Not only can exercise help you keep your weight in check,
but it can help your body more effectively use the food you consume, helping to
maintain more constant blood sugar levels.
5. Scientists are also discovering that there might be a secret weapon in the
fight against diabetes, and it's safe and simple.
Both Green Kuding Plus and Balsam Pear teas have been shown to help manage blood glucose levels. Green world tea is useful in preventing and treating many forms of disease. It has been shown to diminish the menace of heart disease, Alzheimer's disease, and even cancer. Tea helps keep insulin levels constant in the blood, helping to control it naturally. The United States is growing more and more concerned with Type II diabetes.
One of the chief alarms is the climbing rate of obesity. We need to be concerned with behaviour that might help to put off the onset of diabetes. We know weight control, diet and exercise are significant in preventing diabetes, but research is showing that there may be other things we can do.In diabetes, our bodies do not produce or properly use insulin. Insulin is the hormone that converts glucose into energy.
The most common type of diabetes seen today is Type II, where insulin is produced (sometimes not enough), but is not used appropriately; this results in a high blood sugar
level in the body. Type I diabetes (diagnosed in childhood) results from an inability to produce insulin.
This means their blood glucose levels are high, but not enough to be diagnosed with diabetes. Complications from diabetes include blindness, cataracts, kidney problems, heart disease, stroke, nerve damage and foot and skin problems.
FOR MORE INFORMATION, ORDER AND CONTACT.IN NIGERIA ON GREEN WORLD NIGERIA.
Call
+2348181270737, +2348038000974  Abuja, Lagos, PortHarcourt, Kaduna, Warri, Abia
etc – Nationwide delivery available to major cities in Nigeria